What's Meta Tags?
Meta tags are html snippets that provide information about your webpage to search engines like Google.
Are you still confused about Meta Tags?
When searching anything on Google, you will see the results represented in a title and a small description format those are the meta title and the meta description; website meta tag.

Meta tags checker or how to check the current Meta Tags for my website?
Follow the three steps below to check your current Meta Tags and how does your site pages currently appear on the search engine results page(SERP)
Go to google.com
Type site:yoursite.com
Hit the search button
Remember to check your competitor's meta tags and what keywords they are mentioning.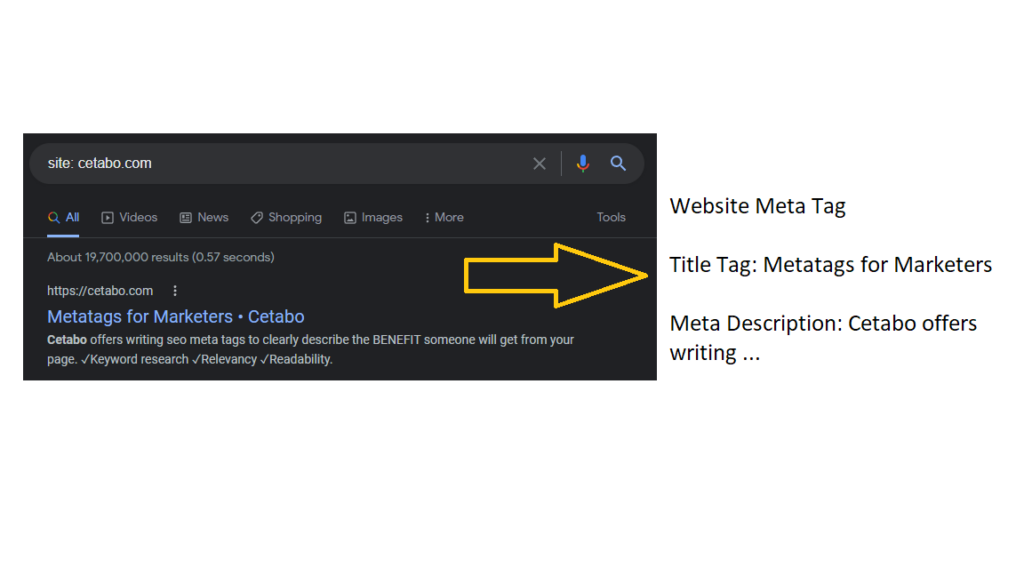 In the above example, Google searched pages inside Cetabo.com and it shows the current Title and Meta Description for the homepage.
Notice that Google will ask you to Try Google Search Console and if you own yoursite.com? Get indexing and ranking data from Google.
How to add meta tags for SEO based on your website's CMS e.g. WordPress
There are many reasons why marketers update their meta tags. Whether you are launching a new site or updating your current content, learn how to update your meta titles and description based on CMS
---